We Are Looking For Seed Collectors!!
Just as we depend upon the skills and enthusiasm of volunteers in the lab to clean and process our seeds, we depend upon intrepid botanists in the field to help undertake collections.
WE ARE LOOKING FOR CONTRACT SEED COLLECTORS TO: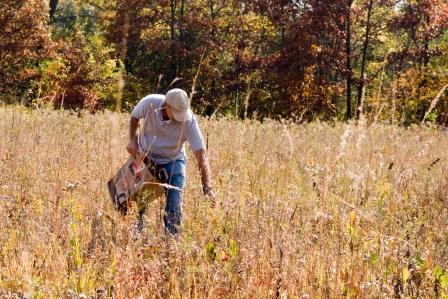 Independently collect seeds from species identified on our target list. Each collection will be sent to the seed bank manager with:
Collect a minimum of 3,000 seeds from each population.
Collect two herbarium voucher specimens and a DNA voucher per collection.
Complete a field data form.
QUALIFICATIONS/SKILLS:
Experience with identifying native plant species.
Knowledge of the difference between fruit and seed.
Ability to create herbarium specimens and report latitude/longitude location on data forms.
Pay rate per collection
Regular collections: $125/collection
Priority collections: $130/collection
TRAINING AND DEVELOPMENT: If needed, training for seed collecting will be provided by CBG staff. We strongly urge potential contractors to review the Seed Collection Protocol document for more details on collection responsibilities.
IF YOU WOULD LIKE TO BECOME A CONTRACT SEED COLLECTOR: Please contact Dave Sollenberger, Seed Bank Manager, dsollenberger@chicagobotanic.org